It's only over the last thirty or forty years, that the bathroom has really become recognised for what it is – or perhaps what it should be.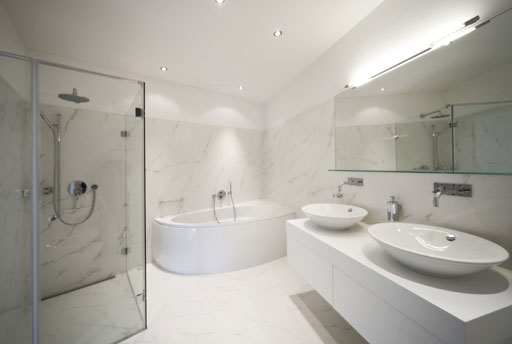 Time has moved on from the days of a bathroom with white ceramic bathroom suite. The bathroom comprised of bath, sink, and WC, painted walls, or white tiles, frosted glass window, and cupboard above the sink for toothbrushes and razors. With a reversible magnifying mirror for dad to shave; it was what one would call 'functional.'
Now the bathroom has increased in status, and with good reason. Considering it's probably the second most intimate room in the house for all the family after the bedroom, it's not before time. Even for those on a limited budget, the most basic form of bathroom make-over can change the whole look of the room.
Opt for Glass Surround
If your refurbishment plans include a shower cubicle installation, choose glass shower doors, especially in a room a little pushed for space. Using clear, framed or un-framed glass will help retain a feeling of openness.
Many balk at the idea of glass in the bathroom, especially where children are concerned but it shouldn't cause concern. Shower cubicles and doors, whether sliding or opening, are made from 4mm, 6mm, or 8mm toughened glass, and has to pass stringent safety tests.
Tinted Glass
If you're a little self-conscious when it comes to taking that shower, or you have a specific bathroom scheme, glass surrounds and doors come in a variety of tints. They can be frosted, or include etched designs to match aspects of the bathroom. Your favourite glass shop in Surrey will stock a range of different glass for shower cubicles, and in many cases have examples installed in their showroom.
With its ease of cleaning, glass has become the number one material for shower cubicles, and frameless glass is now more popular than framed glass panels. Glass isn't just for shower cubicles either.
If you have a bath and power shower combined, consider getting rid of that old plastic shower curtain and rail. Hinged or fixed glass splashguards look so much more appealing than a past its best plastic shower curtain, pushed up to one end of the bath.
Companies like M&M Glass supply a whole range of different shower doors in Surrey. Whether a new shower cubicle surround and door, or replacing plastic curtain in a combined bath/shower, check out the range available at your local glass store.
Sources:
What thickness glass for shower doors and enclosures?, showerenclosuresdirect.co.uk